For all the pet parents who are riddled with anxiety at the thought of leaving their best furry friend behind, don't worry. We bring to you a specially curated list of pet friendly hotels  in Chennai for your next vacation. Chennai is a pet friendly city with a wide range of stays to choose from so that you and your fur family can have a memorable and comfortable vacation. 
From spacious luxurious hotels for cuddle sessions with your fur family to lush green resorts for tail-wagging activities, enjoy your vacation thoroughly with any of the following hotels in the adventurous city of Chennai.
Top Pet Friendly Hotels in Chennai for Stay Around the City
1. Hyatt Regency Chennai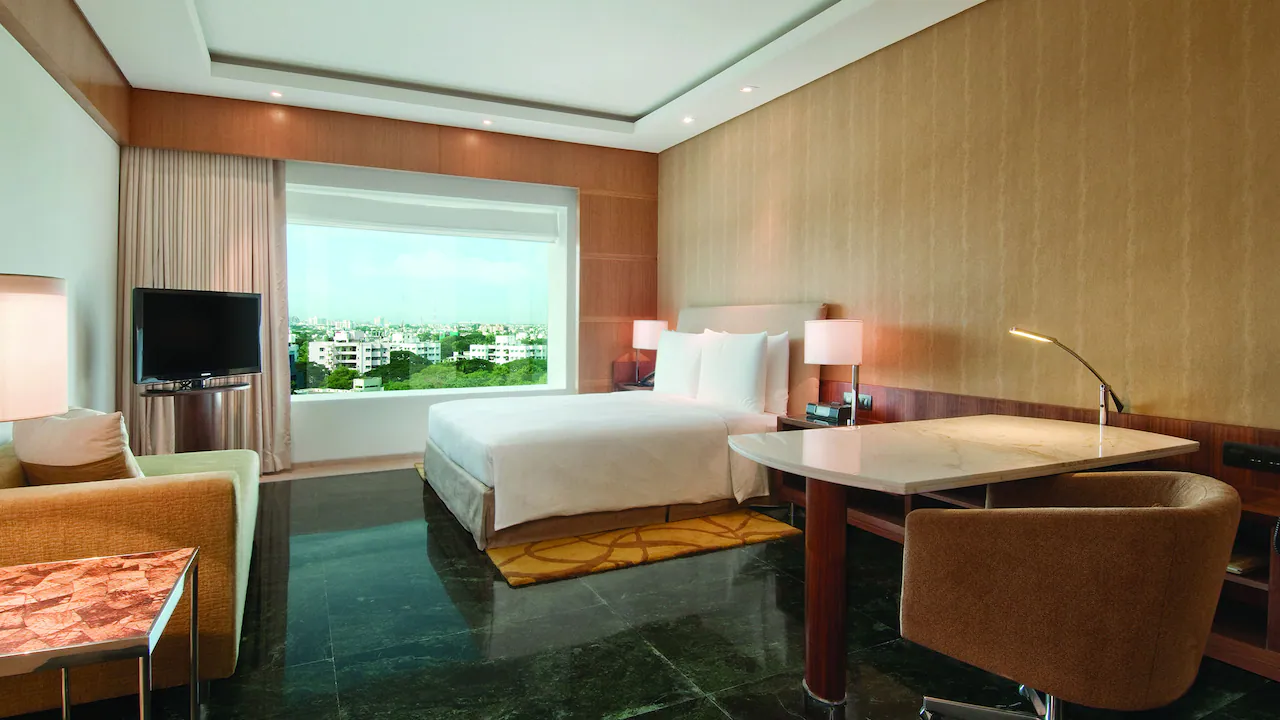 As a modern, pet-friendly five star hotel located in the heart of the city, The Hyatt Regency Chennai serves all purposes for a fur-tastic vacation with your fur family. Close to all the prime business districts, IT corridors, heritage and cultural sites and the Chennai International Airport, this hotel caters to business and leisure trips. With a wide range of luxury rooms and suits for special downtime with your furballs, Hyatt Regency is suited for all your needs. The rooms are fitted with modern amenities that are essential for a comfortable stay. 
The staff is pet friendly and will rush to aid you with all your pet's requirements and provide you with a personalised service to ensure a comfortable travel experience. There is ample space around the rooms for your pets to explore and have a purr-fect stay. 
The hotel also offers free internet access, free parking, a room service, a spa, a pool and other facilities to ensure a comfortable stay. Its location is perfectly suited to give you access to all the local attractions, restaurants and cultural sites.
Address:

365, Anna Salai, Teynampet, Chennai, Tamil Nadu, India, 600018

Email:

chennai.regency@hyatt.com

Phone Number:

+91 44 6100 1234
2. Park Hyatt Chennai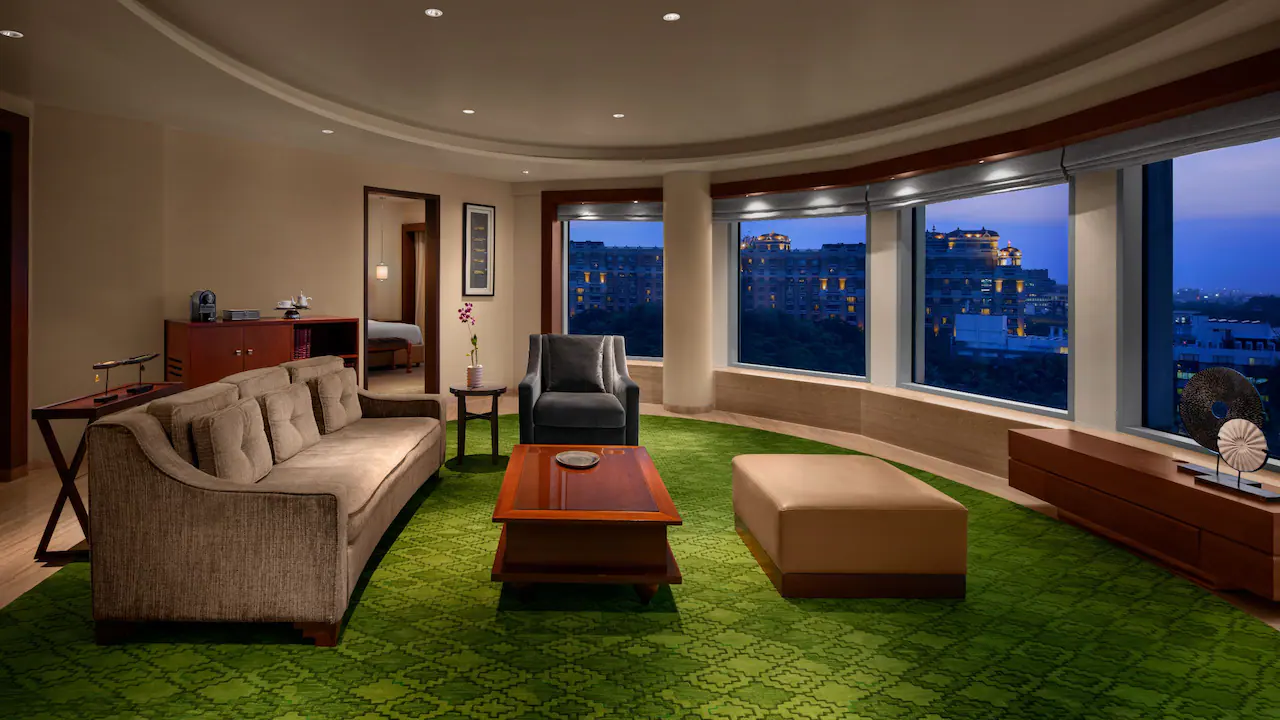 Overlooking the Guindy Forest, The Park Hyatt Chennai offers its guests an unforgettable stay experience. Your pet is free to relax in the spacious rooms and suites that the hotel offers and enjoy the trip to the serene dotting the inner courtyard of the hotel. With extra care offered by the staff, you and your fur family can have their requirements met for a wonderful and peaceful stay. 
Additional features of the hotel are a wellness centre, an infinity pool, an indoor golf studio and much more. After a long day of traversing the culturally rich streets of Chennai, you and your furry companions can unwind in the beautiful outdoor space withThe Park Hyatt has to offer. You can even enjoy day trips from the hotel to nearby places to fulfil that traveller's appetite. 
Address:

39 Velachery Road, Near Raj Bhavan, Chennai, Tamil Nadu, India, 600032

Phone Number:

+91 44 6177 1234
3. ITC Grand Chola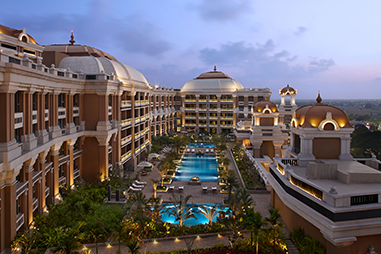 Located in the heart of Chennai, the ITC Grand Chola grand tribute to one of the greater empires of Southern India, the Imperial Cholas. The palatial hotel features grand decorations seeped into the artistic and cultural heritage of the region. It offers a wide range of rooms, each with its own design aesthetics, tributing the culture of the city. The hotel is within close distance of a range of tourist attractions allowing for a culturally rich exploration of Chennai. 
It offers a wide range of facilities such as ten different dining options which champion the local delectable cuisine that seeped in history along with various other amenities such as a fitness centre a swimming pool, a twenty-four-hour reception service and much more. 
Most importantly, the fantastic and hospitable pet-friendly service of the hotel will ensure that all your vacation needs are met. The long walkways and lush green gardens surrounding the hotel will give you and your furry friends ample amount of space to run around and generate happy tails. The luxurious and spacious rooms and suites are well-suited to fit your doggos for a well-deserved rest and relaxation session. With ITC Grand Chola, all your Pet-friendly Chennai vacation goals will be met. 
Address:

  No. 63, Mount Road, Guindy, Chennai- 600032, Tamil Nadu, India

Email

:  reservations@itchotels.in

Phone Number:

+91 44 22200000
4. Taj Wellington Mews, Chennai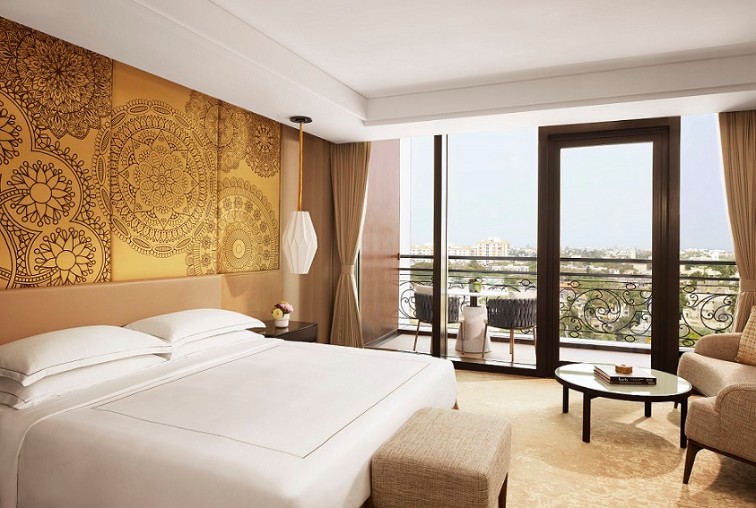 The thoughtfully designed and breezy apartments of the Taj Wellington Mews, Chennai are equipped with all modern amenities to ensure a pleasant stay for your fur family. Located a short distance away from the Chennai airport, this hotel is easily accessible from all parts of the city. Especially the beaches so that you and your furry companion can take in glistening sun and chill waters, and come back to your room for some downtime. 
The hotel rooms come with a fully functional kitchen so that you can make sure that your precious pup gets its designated meals timely and the super friendly staff ensures that you are perfectly aided to do so. The outdoor pool, wellness center and gym cater to all your vacation needs and the ample outdoor space will give your doggo the space to run around and thoroughly enjoy its pet-cation.
Address:

  TRIL Infopark Limited, Rajiv Gandhi Salai, Taramani, Chennai, Tamilnadu, 600 113, India

Email

:  reservations.twmchennai@tajhotels.com, reservations.chennai@ihcltata.com

Phone Number:

 +91-44-64804425
5. Ibis Chennai City Center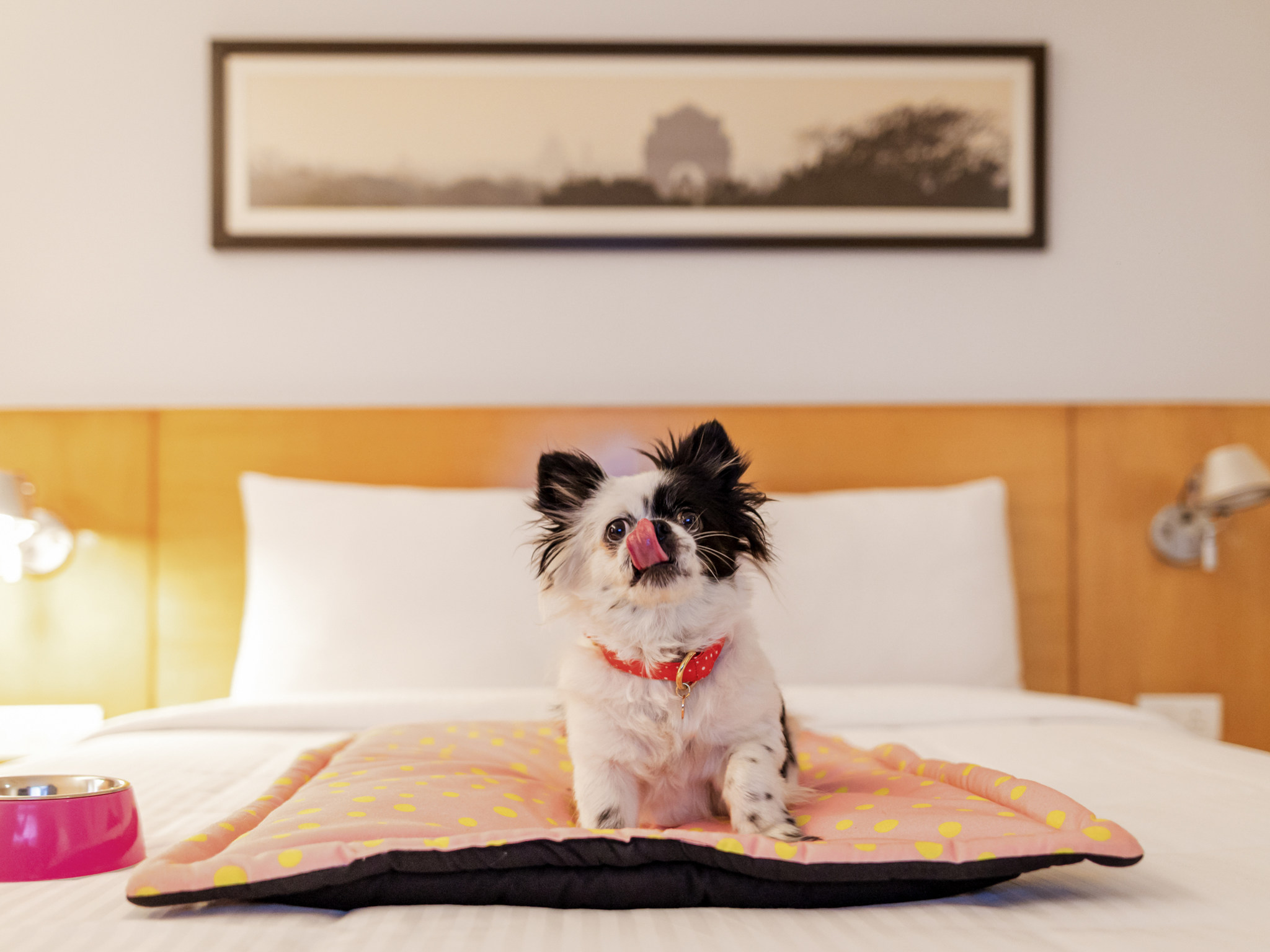 Centrally located, Ibis Chennai is within close proximity of major tourist attractions, business parks and IT districts of the city and different modes of transport. Regardless of the agenda of travel; business or leisure, with Ibis you will find yourself surrounded by the hustle and bustle of the city, offering a range of exploration spots and shopping destinations. 
The hotel gives its guests a range of options to choose from along with numerous facilities and services, such as lounges, restaurants and most importantly a personalised pet-friendly service ensuring a comfortable and enjoyable stay. 
Address:

  690 Anna Salai, Mount Rd. Near US Consulate, Thousand Lights, 600006, Chennai, India

Email

:   h8020-re@accor.com

Phone Number:

+91 44 7122 5599
6. Somerset Greenways, Chennai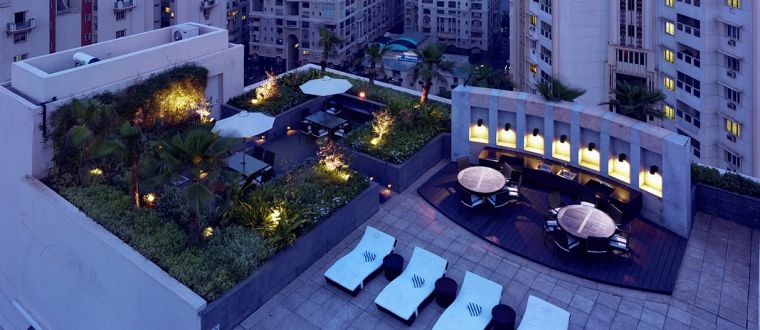 The Hotel sits on Sathyadev Avenue which is just a ten-minute drive away from the city's main central business district and a 45-minute drive from Anna International Airport. Guests will easily navigate their way around the city with the metro line, with the closest station (Greenways Road Station) just a 5-minute drive away.
Somerset Greenways is the perfect place to unwind and cuddle up with your fur friend after a long day of exploring the city. The residence offers its guests a range of apartments of varying sizes so that you can choose the best for your pet. With a hospitable and kind staff, your pet will be treated with the utmost care. They also offer a long list of amenities such as a fully equipped gymnasium, infinity and children's wading pool, rooftop gardens, a business centre and much more. The designated walking spaces will allow you to enjoy long walks with your best friend and have a memorable stay. 
Address:

No 94 Sathyadev Avenue, MRC Nagar, Chennai – 600 028

Email

: enquiry.chennai@the-ascott.com

Phone Number:

+91 44 7100 0001
Top Pet Friendly Hotels in Chennai for a Weekend Getaway
7. Taj Club House, Chennai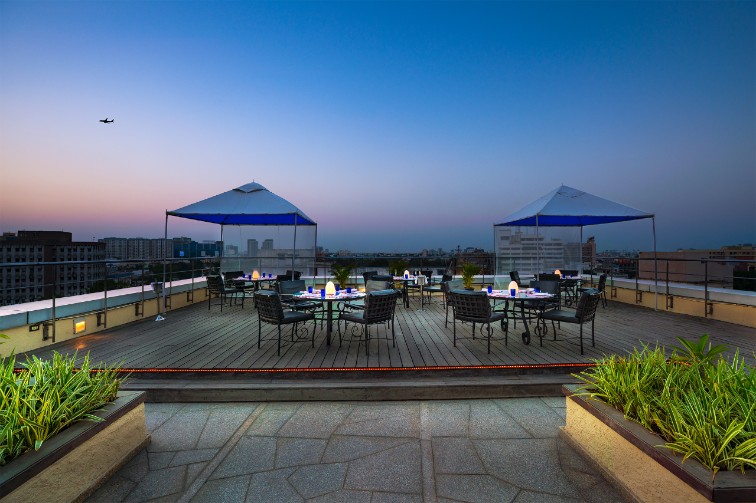 A purr-fect vacation for your family awaits you at the Taj Club House. Located close to all the transportation options available in the city, this hotel offers a modish retreat for you and your fur family. With large spacious rooms equipped with all the required amenities. 
Multiple dining options will make your stay even more enjoyable. While your pet scampers along the ample outdoor space available and may even enjoy a splash in the pool you can utilise the wellness centre to make the most out of your vacation. 
Address:

  No. 2, Club House Road, Chennai, Tamilnadu, 600002, India

Email

:  clubhouse.chennai@tajhotels.com, reservations.chennai@ihcltata.com

Phone Number:

 +91-44-64804425
8. Green Meadows Resort, Chennai
Unwind from the daily hustle in Chennai with the Green Meadows Resort. At the perfect location of the Chennai East Coast Road, this resort offers the sweet spot between the adventure and history the city has to offer while also taking in the lush green nature. This resort caters to all your pet-cation needs, with cosy spacious rooms, a global restaurant with all resources and a sprawling lawn for all the wagging tails. 
The resort offers top – notch comfort and unparalleled hospitality for your fur family. The outdoor swimming pool allows for a quick splash after a long day of running around in the mail lawns playing catch. With Green Meadows you can assure yourself of a relaxed and exciting stay. 
Address:

  4, 364 A, Anna Salai Rd, Palavakkam Kuppam, Palavakkam, Chennai,Tamil Nadu 600041

Email

:  info@greenmeadowsresort.com

Phone Number:

 +91 99449 90950
9. Novotel Chennai, OMR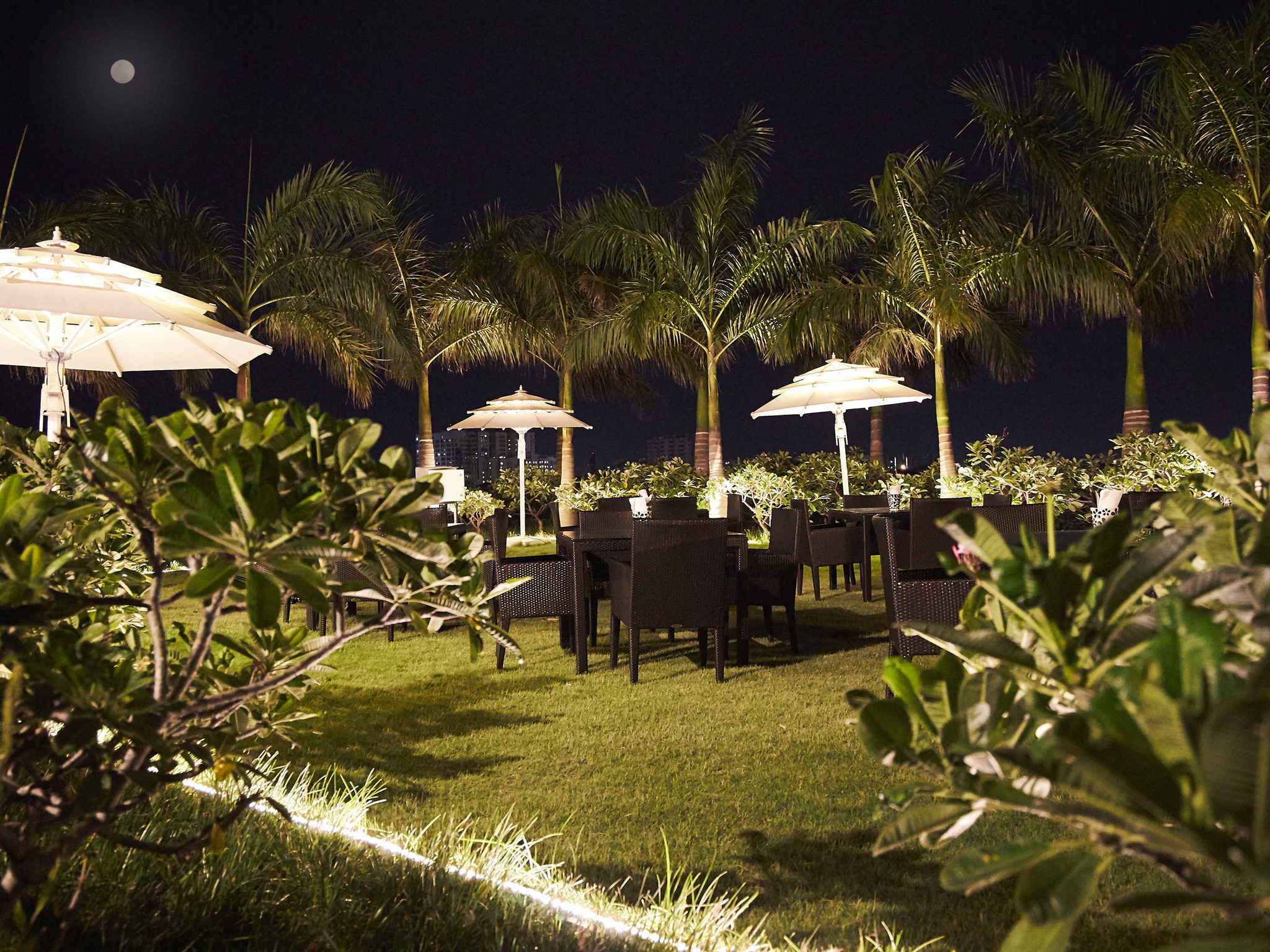 Located on the old Mahaballipuram Road, The Novotel Chennai is perfect for a trip to the cultural capital of the country. This hotel is perfect to travel with your pets, big or small with its splendid pet friendly services. The spacious and luxurious rooms are well suited for your giant fur family and is equipped with all modern amenities to ensure a pleasant stay. 
The ample outdoor space along side a swimming pool is perfect for a fur-tastic games followed by a quick swimming session. The lush gardens are perfect for long walks with your best buddy and the short ten minute walking distance from the beach makes the vacation even more enjoyable. 
Address:

  Opp. Elcot Sez, IT Expressway,, Old Mahabalipuram Road,, Sholinganallur, 600119 CHENNAI, India

Email

: h6714-re@accor.com

Phone Number:

 +91 44 6644 4777
10 .Maruvoor Arasi Garden Resort

With this quiet abode nestled in lush green nature, your fur family is guaranteed to have a paw-some vacation. The spacious rooms are well-suited to accommodate both you and your puppers. The huge playground offers ample space for a good old game of fetch and ensures that all tails are wagging. 
An exercise in the playground can be followed by a quick splash in the pool and the room service offered by a considerate staff ensures that your vacation with the Maruvoor Arasi Garden Resort will be most enjoyable. 
Address:

Maruvoor Arasi Garden Resort, Harichandra 3rd Cross St, Injambakkam, ECR, Chennai-115

Email

:  

manager@magresort.in

, magresorts123@gmail.com

Phone Number:

+91 73 73 34 56 78,  044 2449 1672, 044 2449 1819
So there you have it, some of the best pet-friendly options for accommodation in Chennai. Remember to ensure that all of your pet's requirements are met by the hotel before checking in. It is important to take care of your fur family's safety and health when travelling. 
If you visit any of the above-mentioned places or try new ones, do share your experiences in the comments section below! Happy Travelling!
Connect with us on Instagram.