Leaving your furry friends behind while you set off on another adventure can be a worrisome and nerve-wracking experience. But don't you worry, thanks to these pet friendly hotels in Hyderabad, you can add another flag to your set of explorations with your four-legged friends. 
Prepare yourself for a relaxed retreat in the magical outdoors or an adventure into the city with spacious rooms for your tailed friend to unwind in. Pack your crew's bags and book your furballs' tickets and get ready for a purr-fect vacation with your best furry friends. 
Top Pet Friendly Hotels in Hyderabad for a Quiet Vacation
1. Concord Comfort Serviced Apartments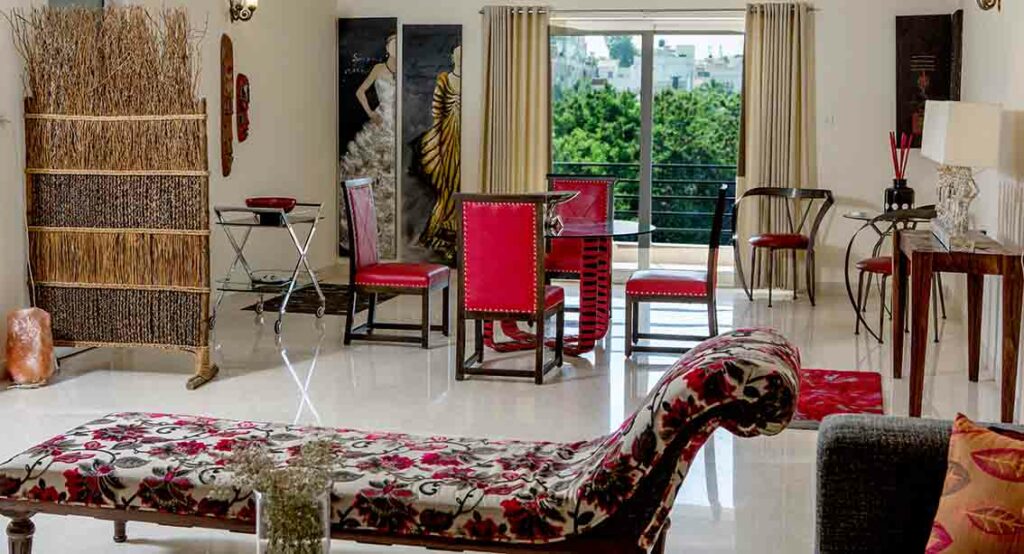 Available at four different locations, the Concord Comfort Serviced Apartments are perfect for a weekend getaway in Hyderabad. Equipped with everything you need for however long you wish to stay, these apartments also privilege your privacy and comfort. Your fur family has more than enough space to lay around in the spacious apartment and run around in the lawns inside, creating a paw-some vacation. 
These apartments are located in Jubliee Hills, Banjara Hills, Gachibowli and Serilingampally, so that you have the freedom to choose an apartment that suits your agenda. Some of the properties also have a swimming pool so that you and your furry companion can enjoy the occasional splash. Additionally with home-cooked meals you can cater to your pet's needs thoroughly. With Concord Comfort you are bound to have a comfortable stay. 
Email

:  info@concordcomfort.com

Phone Number: 91 9849013080, +91 9920086113
2. Olive Service Apartments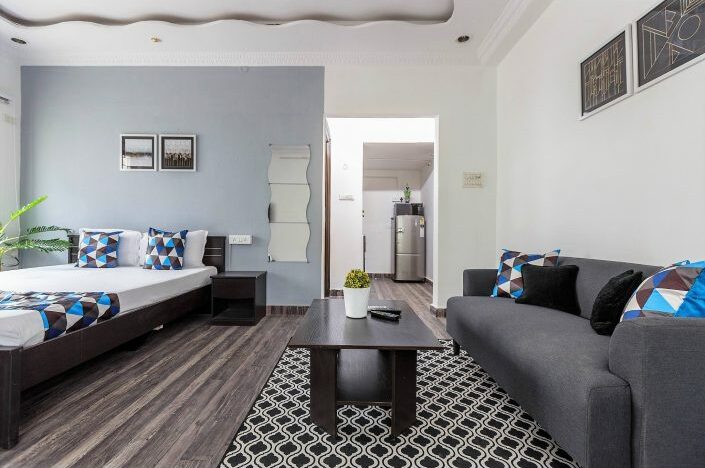 Olive Service Apartments are award winning serviced apartments located near the Hitech City and Gachibowli in Hyderabad. They are well suited for corporate executives who are also pet parents along with families on their petcation. Equipped with all modern amenities and resources, these apartments are self catered so that you can take care of your furball through the comfort of your own ways. 
The ample outdoor space provided in the properties ensure that your pet gets their daily dose of exercise and can cuddle up for some downtime in the spacious and completely private apartments. With a professional support staff available to aid you in any manner possible, Olive Service Apartments promise a pleasant stay for your fur family. 
Email

:  sales@olivehyderabad.com

Phone Number:

+917090006000/ +919065650650
Top Pet Friendly Hotels in Hyderabad for a City Stay
3. Hyatt Hyderabad, Gachibowli

Just a short thirty-minute drive from The Rajiv Gandhi International Airport, this hotel offers a comfortable pet-friendly stay. The hotel also lies in close range to the major attractions offered by the city of Hyderabad, allowing you to explore the royal legacy of the city at its forts and iconic destinations, uncover the local art & craft or relish delectable cuisines. 
With a wide range of facilities, this lush green property features a fitness centre, an outdoor pool and a spa, this accommodation is perfect to unwind after a long day of exploring the city. The scenic walking track is perfect for long serene walks with your furry friend.
Hyatt Hyderabad Gachibowli offers a range of cosy rooms with walk-in closets and splendidly spacious rooms sporting features such as a terrace garden to allow greater and greener space for your four-legged companions, with a special focus on pet sanitisation. 
Email:

hyderabad.hyatthotels@hyatt.com

Phone Number:

+91 40 4848 1234
4. The White Fern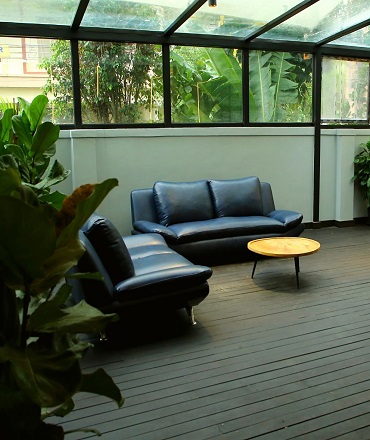 Situated in the heart of Hyderabad, near the Hyderabad International Convention Center, The White Fern Stays offer contemporary fully furnished accommodation with convenience, comfort and security as their priorities.
The rooms are individually styled with inviting lounge areas, comfortable bedrooms and numerous amenities such as free internet services, and fully functional kitchen, storage spaces, and most importantly a pet-friendly arrangement. The spacious rooms offered with a differentiated living area are perfect for a comfortable stay with pets. The rooms are also equipped with modular kitchens so that you can whip up delicious home-like meals for your furry friends, and the pet-friendly staff ensures that you and your fur family have a pleasant and memorable stay.
The hotel is suited to accommodate your furry friends with the luxury of expansive space, to make the most out of the much-required downtime with your pets after a long day of exploring the city. The strategic location of White Fern also allows you to continue exploring the city and the various attractions it has to offer. With White Fern, you and your fur family are sure to have a comfortable and memorable stay.
Address

: White Fern Stays, Plot 76-78, JV Colony, Gachibowli, Hyderabad, Telangana 500032

Email:

admin@whitefernstays.com

Phone Number:

+91 85198 09394​
5. Oakwood Residence Kapil Hyderabad

A certified pet-friendly hotel in Hyderabad, Oakwood Residence Kapil is perfect for making space for your furry friends during a business or leisure trip. This hotel offers you world-class service and is located near Gachibowli IT Park, the innovation hub of Hyderabad. The pet-friendly staff ensures that all your pet's requirements are met for a comfortable stay. 
The hotels offer a range of services. With a 24/7 restaurant service, a fitness center and an indoor swimming pool to fulfill all your vacation needs. The spacious and luxurious rooms are suited to stay with pets for a comfortable lodging experience. They place a focus on maintaining privacy and providing personalized services to their customers which is why you and your furry companions will have a wonderful stay here. 
Address:

Survey Number 115/1, Nanakramguda, Financial District, Gachibowli, 500032, Hyderabad, India

Email:

general.residence-hyderabad@oakwood.com

Phone Number:

+91-40-6635 9999
Best Pet Friendly Resorts in Hyderabad for a Getaway
6. The Wilderness Retreat

Amongst the peace and calm of nature, The Wilderness Retreat offers you and your pets a cosy living accommodation. It strives to create a balance between luxury and a camp experience, giving your pet the opportunity to explore the boundaries of nature and enjoy new territories. It offers a range of activities such as Bird Watching, Barbecues, Bonfires, Treks and much more. The house doggos, Whisky, Ghost, Killer and Buddy might even drop in to say hi. 
The Retreat offers a wide range of rooms and cabins that cater to all your pet's needs. If you are looking to meander through nature's trails with your furry friend beside you or enjoy a good old game of fetch on a sprawling lawn, this resort has it all. With the multiplicity of the amenities and activities offers coupled with the space that nature provides, The Wilderness Retreat becomes a go-to place for you and your furry family. 
Address

: Sy No. 41 & 42, Kokapet village, Osman Sagar Lake Road, Gandipet, Hyderabad, Telangana, 500075, India

Email:

info@thewildernessretreat.in

Phone Number:

(91) 8886185577
7. The Hornbill Retreat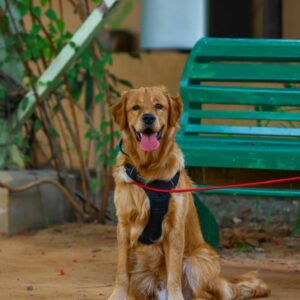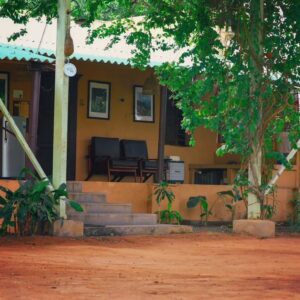 Nestled amidst the organic surroundings within Hyderabad, The Hornbill Retreat offers an exquisite stay within city limits. The pet-friendly cottages overlook a plantation and give you and your furry friend enough space to explore the nature around you. Located at a close distance from the city, the retreat allows you to not only explore the city but also relax and unwind with your furry family right beside you. 
With a variety of accommodation options ranging from Outhouse Cabins to Treehouses, you and your pets can enjoy a nature retreat surrounded by the striking flora and fauna of Southern India. The retreat not only features essential amenities such as complimentary internet access and air conditioning, but an expanse of land for your furball to frolic around. After a long day of exploring and travelling, the bonfire area becomes a perfect place to enjoy some downtime with your cherished furry companions. The Hornbill Retreat will take care of all your vacation needs and aid in fostering long-lasting memories. 
Address

: Hornbill Retreat, Basuragadi Village, Hyderabad, Telangana 500043 

Email:

dhananjay543@gmail.com

Phone Number:

7795121112
8. Green Bridge Cove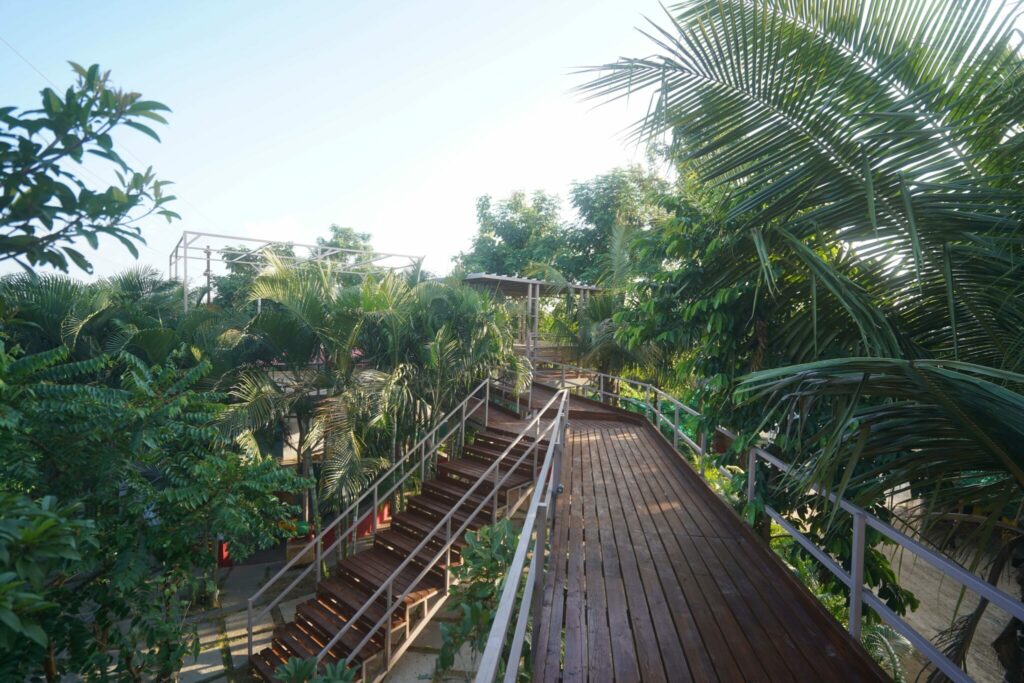 For a perfect weekend getaway from the city, The Green Bride Cove is well suited for your petcation. In nature's alcove this resort is equipped with all your vacation needs. You can ensure happy snouts with the lush green and expansive garden and also enjoy the occasional splash in the pool. 
The rooms are cosy and specially designed as a tranquil space for you to retreat in after a long day of exploring the city or running around with your furballs. Your stay at the Green Bridge will be one long relaxed vacation. 
Address

: 696P+5X , Chinna Golconda, Shamshabad, Near RGI Airport , Telangana 501218

Email:

greenbridgecove@gmail.com

Phone Number:

+91 9440049071
9. Trance – Greenfields Resort and Convention Center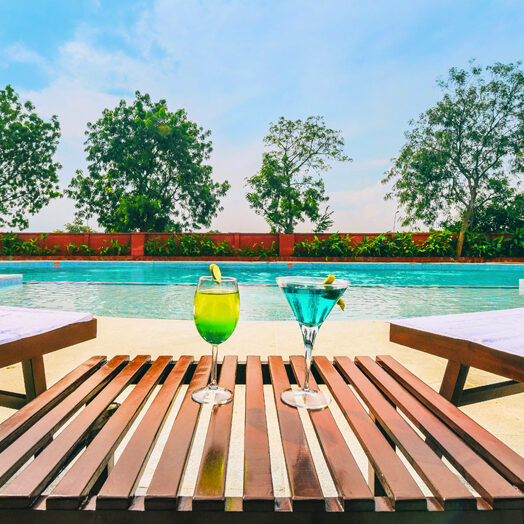 Sprawled out over 24 acres of plush land, Trance Greenfields paints an exquisite picture of serenity in the embrace of nature. An oasis for city dwellers, nestled in the outskirts of Hyderabad, the Trance Greenfields' ambience is perfect for a weekend getaway.
You and your fur family can enjoy a large amount of outdoor space meant for running around, or enjoy the occasional splash in the pool and come back to your spacious room for the much need rest. Trance- Greenfield lives up to its name and ensures that your pet-cation is up to the mark. 
Address

: Trance Greenfields Resort, Keerthireddy Palli Village, Moinabad, Hyderabad, Telangana 501504.

Phone Number:

040-23473300
10. Button Eyes Resort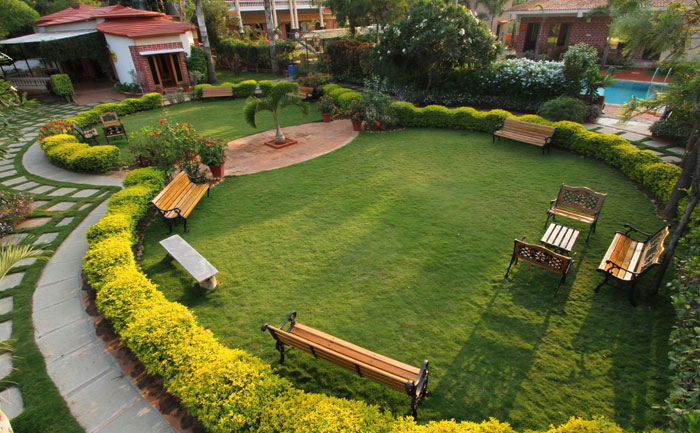 If you are planning to break away from the draining everyday routine of yours and relax in the city of pearls, the Button Eyes resort is perfect for you. Nestled in the wondrous green canopies of the Banjara Hills, this resort is the idle getaway for a purr-fect vacation. 
This resort comes with a range of options, from cottages with private pools, suites, rooms with a pool side view and much more so that you can choose the one that fits your pup the best. With its sprawling lawn and a rooftop garden and the ample amount of green, Button Eyes will ensure wagging tails throughout the stay. 
Address

: 8-2-392, Peela Bangla, Road No – 5, Banjara Hills, Hyd – 500034

Phone Number:

+ 91 9010570780
There you go! The top best pet-friendly hotels in Hyderabad for a purr-fect travel experience for you and your fur family. These comfortable stays are well suited for you and your pet's requirements, with ample space for fun and games and spacious cozy rooms for downtime.
Be sure to prioritize your pet's health and safety during travel and remember to pack all the essentials. 
If you have visited any of these pet friendly hotels, do share your experiences and let us know your favorite fur friendly destination in the comments below or connect with us on Instagram.